Welcome to the RE-DIRECT web portal
RE-DIRECT stand for Regional Development and Integration of unused biomass wastes as Resources for Circular products and economic Transformation
Each year, approx. 34 MT of residual biomass occur in urban and rural areas of North-West Europe (NWE). On the other hand, there is an increasing demand in carbon feed-stock, not only for fuel purposes but also for products, for instance in the waste water sector for activated carbon that is currently imported from African or Asian countries.
RE-DIRECT aims to set up decentralised conversion units to convert residual biomass into alternative carbon products. We will also focus on activated carbon to be used for clearing regional waste water and contaminated sites.
The project aims to create a network for alternative carbon products and promote the collection, production and value chain management of alternative coal and carbon products as a starting point to circular economy. With this it will benefit to global climate, but will also contribute to foster regional economy and deliver smart solutions to remidate contaminated sites and eliminate hazardous micro-pollutants.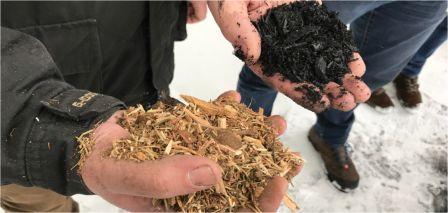 RE-DIRECT and the Climate Change Conference (COP23) 2017 in Bonn
In the Framework of the COP23 thousands of protestors have been demonstrating for a reduction of  fossile coal production and utilisation.
RE-DIRECT aims to create alternative feedstock to coal and promotes alternative carbon products from unused grass and landscape materials.
RE-DIRECT is catching opinions and interviews from delegates and experts and sets up a networking space for people and projects developing alternatives to coal.
What we have been doing can be discovered in Baden-Baden where the first RE-DIRECT plant has been constructed and an INTEGRATED BIOMASS CONCEPT has been developed.
Have a look in the video of our previous COMBINE project.
Contact us
RE-DIRECT is part of the PROGRASS network which has been developing innovative approaches to recover bio-energy and carbon products since 2008 in different European projects.
We are planning to have a big international conference in Autum 2018 in Baden-Baden where we are going to present the first large scale conversion plant in connection with an Integrated Biomass Concept.
In connection with the conference we will have a fair for alternative coal products and an award for the most innovative products and regional value chains.
Please join and contact us via:
Twitter feed is not available at the moment.
Here is the entrance to our interal work space
Please click here in order to access the internal work space of the RE-DIRECT portal.
Username and Password required.